1967-1968
After becoming third in the 1965/66 championship and fourth in the 1966/67 championship with the help of Omar Sivori from Juventus and Josč Altafini from Milan, Napoli try for something better by acquiring one of the best goalkeepers ever, Dino Zoff. Also new for this season are Paolo Barison, an old friend of Altafini at Milan, Alberto Bigon (b.1947 Padova), later coach when Napoli would win the championship for the second time, Ivano Bosdaves and Alessandro Profumo (b.1944 Perugia).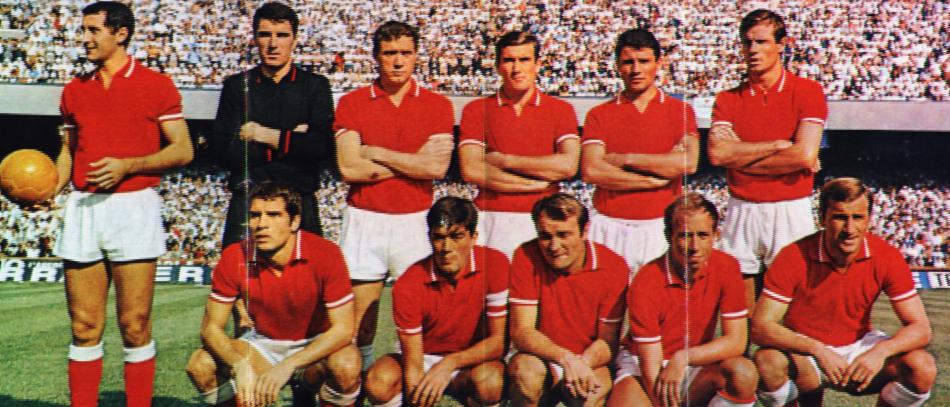 Here we see the Neapolitan team before one of the earliest matches of the season in their away strip. The players in this formation are (from left to right), standing: Amedeo Stenti (b.1940 Civitavecchia), Dino Zoff (b.1942 Udine), Stelio Nardin (b.1939 Romans d'Isonzo), Luigi Pogliana (b.1945 Milano), Antonio Girardo (b.1937 Vicenza), Dino Panzanato (b.1938 Venezia), kneeling: Alberto Orlando (b.1938 Roma), Antonio Juliano (b.1943 Napoli), Josč Altafini (b.1938 Piricicaba di S. Paolo, Brazil), Ottavio Bianchi (b.1943 Brescia), Paolo Barison (b.1936 Treviso).
Not seen in the photo are: Faustinho Jarbas Canč (b.1939 Rio de Janeiro, Brazil), Enrique Omar Sivori (b.1935 San Nicolas, Argentina), Romano Micelli (b.1940 Udine), Ivano Bosdaves (b.1945 Udine), Bean and the coach Bruno Pesaola. The president at that time was Gioacchino Lauro.